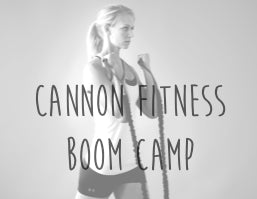 Cannon Fitness
Cannon Fitness Boot Camp
New!! Enroll in our Auto charge ($2.00 transfer fee). You will be charged on the 25th of every month. 
New Schedule! Begins June 1st!
5:30 am classes M, T, W, F
Cannon Fitness is an all women's small group training fitness program designed to help women develop strength, confidence, and increase their overall health. I want women to believe in themselves and reach goals they didn't know possible. I believe that each woman's beauty is enhanced by strength, athleticism, and determination. Cannon Fitness wants women to feel their beauty, power and strength they possess.
My Boom Camp program is broken into 4 week sessions. Workouts are designed to cause muscle confusion, increase strength, and increase cardio endurance. Classes combine interval training, circuit training, tabata, and strength training so you never get bored... only ready to challenge yourself and take your fitness to the next level!
Cannon Fitness can help you  reach your goals regardless of your fitness level.
Cannon Fitness is a program designed to help individuals develop strength, confidence, and increase their overall health.  Our training is about Functional Fitness. The strength you gain in Cannon Fitness will help you in your every day life. In addition to fitness, I also provide participants with Nutritional Guidelines. These Guidelines have been designed to help you become lean and toned. I want you to enhance yourself and your life, find the strength, stamina, muscle tone, energy you didn't know possible..."Amaze Yourself"!
---
Share this Product